---
Need Assistance?
Click here for more information.
---
Thank You
Master Gardeners and Douglas County
A group of Douglas County Master Gardeners are growing produce for the Parker Task Force in the Hidden Mesa Open Space area. Story and Pictures
---
The Spring Valley Golf Club reopens for the Parker Task Force after devastating flooding.
Volunteers and the course GM save the 2015 PTF Golf Tournament.
Read the full story in the Parker Chronicle
---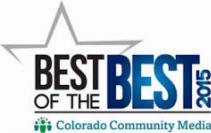 Best Local Non-Profit Organization
Parker Task Force
---
PTF In The News


See our Videos page for PTF in the news.
---
---
Who We Are
The Parker Task Force is a non-profit organization operated entirely by dedicated volunteers.
Our Mission
The Parker Task Force is dedicated to providing individuals and families in our community with food, limited financial assistance and other support services to help them become self-sufficient. These services
will be delivered with compassion, dignity and respect by our 100% volunteer staff. More about us.
How You Can Help
There are many ways you can help the Parker Task Force provide
assistance to members of our community. More information
Take a Video Tour of the Parker Task Force
---
The New PTF Building is Finished!
July 31, 2015
The building is complete! Landscaping is complete! We have our Certificate of Occupancy. Thanks to the generous donated effort of several Lowe's employees we have most of the shelving installed for the new shopping room and several new desks assembled. Most of the general storage shelving has also been installed. Many years in the making and it's here!
August will be used as the transition month with a target date of Tuesday, September 1st to be fully operational at the new building.
Our 2015 Scrapbook contains the pictures taken during the groundbreaking and construction.
Donate to our Capital Campaign for the new building

---
Next Food Drive
Saturday August 15th, 2015

Locations
Dollar Tree - Parker
King Soopers - Stroh Ranch.
King Soopers - Stonegate.
Safeway - Parker

---
The 2015 Parker Crop Hunger Walk
Needs a Couple of Volunteers.
This years walk is on Saturday, September 19th however; they are looking for some help between August 12th and 18th as well. The Parker Task Force and the families we serve benefit from this event each year.
If this is something that you might be able to help out with or have questions please contact:
John Kelty
(
jkelty@prairieuu.org

)
720-312-2643.

Saturday, September 19, 2015 • Parker, CO
Parker Crop Hunger Walk Website