---
School Supplies Program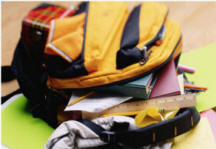 Back Packs Full Of School Supplies For Kids In Our Community
At the beginning of each school year we offer age specific backpacks filled with school supplies to our client families. Client families are not spending money needed to pay rent or utilities on school supplies.
We put them together as follows: Girls K through 6, boys K through 6, Middle School both girls and boys (7 and 8) and High School for both girls and boys (9 through 12).
Any help for the returning students of families in need would be appreciated.
---
Thanks to the Rotary Community Corp (RCC)

Thanks to the Rotary Community Corp (RCC) for helping those in need.
On July 22, 2014 they put together the back packs full of school supplies for kids in our community.
We canít do what we do without groups like the Rotary Club of Parker and the RCC.
---
Copyright © 2015 by Parker Task Force For Human Services
all rights reserved.