| Home | About Us | Calendar | Items Needed | Programs | Volunteer | Donations | Scrapbooks | FAQ | Forms |
---
Parker Task Force Scrapbook
2008
---
February 2008 Food Drive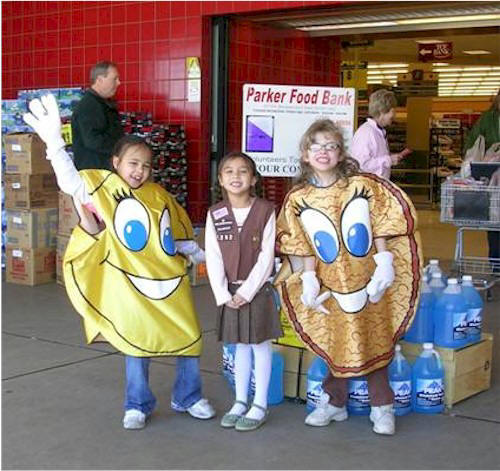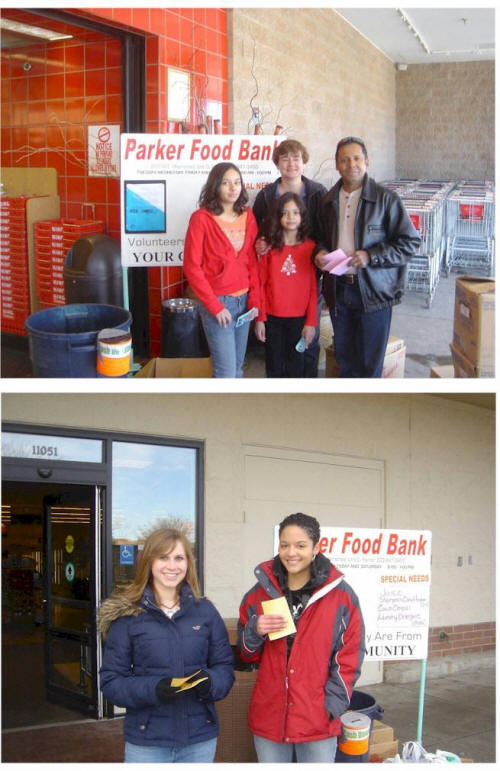 ---
Parker Task Force Thanks Business Leaders
For Helping With Last Year's Monthly Food Drives
The Parker Task Force is in a rut, and a mighty fine rut it is. For seven years now, community volunteers have faithfully stood outside of the two King Soopers and Safeway in Parker, one Saturday each month, braving the elements to collect food and monetary donations for the Parker Task Force. In the meantime, another contingent of volunteers work at the Task Force location to stock, sort, box and store the donations. The result of this effort accounts for 80% of the Task Force's food resources. It is one big reason that Parker Task Force is able to keep food on the shelves for the growing number of families seeking assistance.
The Task Force could not do this vital work without the help and support of local businesses and restaurants. Many pitch in month after month to provide donated or deeply discounted services. Some also provide lunch for the small number of volunteers who work from dawn to dusk on "food drive" day.
There is always an opportunity to give and help. Won't you call and join in? Jump in the "rut" and join those who reach out to help their neighbors in need. Choose a month and sign your restaurant or business up to either provide a service, lunch or staff a food drive location! The community and those who need our services, thank you. The number to call is 303-841-3460. Ask to speak to Jim Chincholl, Co-Vice Chair and Food Drive Coordinator.
The Parker Task Force would like to thank those who step forward to help us out on a regular basis and some of those that have helped us in recent months with the food drive.
Our thanks to:
Walmart, Office Depot, Eldorado Artesian Springs Inc., TGI Fridays, Chipotle, Domino's, Pogue Mahone's, Blackeyed Pea, August Moon, Panera Bread, Steaming Bean, Heidi's Deli, Pappadeaux's, Woody's Pizza, Bull and Bush Pub, Buffalo Boyd's, Lighthouse Café, Anthony's Pizza, Tonti's Pizza, Subway, The Tail Gate who gets special recognition for donating lunch for both of the 9Cares / Colorado Shares drives, Carino's, Noodles & Company, Armando's and of course the two King Soopers and Safeway.
---
Buffalo Boyd's Cooks Up A Successful Fund Raiser
Over $800 was raised for the Parker Task Force Sunday, January 27th at a fund raiser "cooked up" by Buffalo Boyd's Sports Bar and Restaurant. All of the delicious food and service was donated. And, in keeping with PTF's 100% volunteer theme, all proceeds were donated as well.
"Heartwarming" and "awesome" were key words of the event. Many thanks to all of the folks at Buffalo Boyd's, and their customers, for their outstanding generosity and support.
| | |
| --- | --- |
| | |
| www.buffaloboyds.com | Clark Hastings and Buffalo Boyd's Crew |
| | |
| Festive Diners | Owner John and His Crew - Ron, Jill and Mark |
---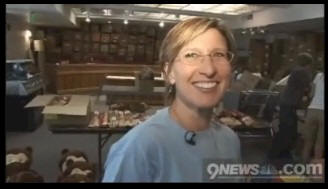 Sam & Jim on 9 News
Our very own Sam and Jim were filmed at PTF before the 9Cares / Colorado
Shares drive.
They both did great! And, this special publicity really helped boost the
food drive.
---



9 Cares / Colorado Shares
June 21st Food Drive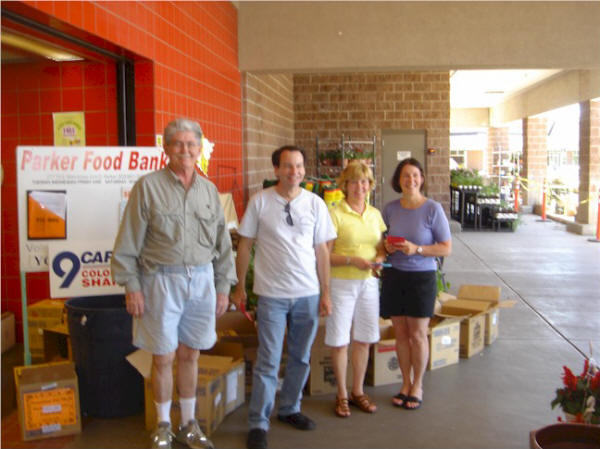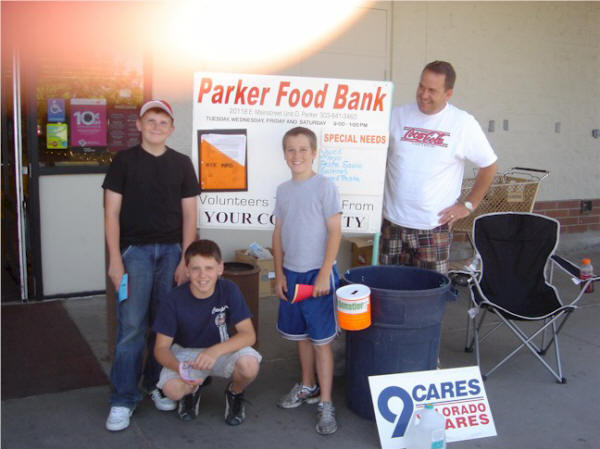 What a great day Saturday turned out to be --- beautiful weather, great food and a tremendous food drive. The huge volunteer turnout is what was most impressive. A total of over 190 people worked at the stores, worked at PTF or came for the BBQ.INCREDIBLE!
Everyone at PTF deserves a huge THANK YOU for all the hard work that went into the 2nd biggest drive we have ever had and a record 9 Cares Summer Drive for the state. More Information on 9Cares/Colorado Shares.
---
The Canterberry Quilting Club Donated Several
Handmade Quilts to the Parker Task Force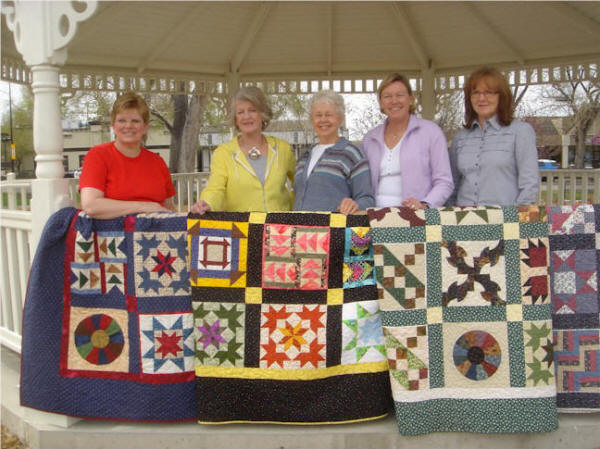 On April 29th 2008 Jim and Bobbie Chincholl met the Canterberry Quilting Club group
at the gazebo in the Parker Park for the presentation.
---
Motorcycle Run To Help Support The Parker Task Force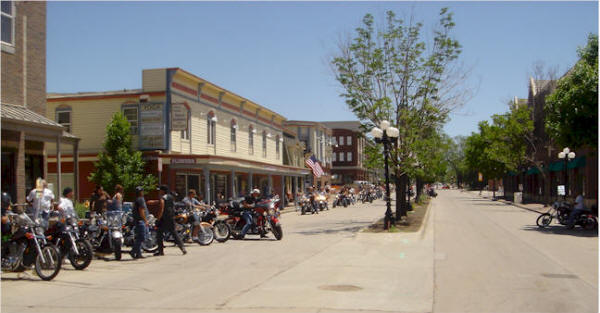 On June 15th Gary Lassiter organized a motorcycle run to help support the Parker Task Force. It started at the Parker Harley Davidson Store on Pine and ended with a ride down Mainstreet. All of the riders joined the festivities of the Parker Days County Festival. We are looking forward to this event next year. Thanks to Gary and all the riders that helped make this a successful event.
---
Pioneer Elementary School Food Drive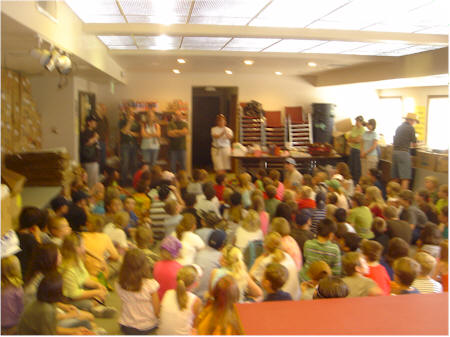 Volunteer Barb Dryer telling the children about PTF and how much
their donations will help their neighbors in need.
Pioneer Elementary School recently donated over 1,600 items, and cash raised from bake sales, to help out the Parker Task Force. Under the leadership of Principal Tim Krabacher and teacher Ms. Mandy Anderson, the children did a food drive and organized bake sales to help out their neighbors in need.
"This is a warm and wonderful moment for all of us here volunteering at the Task Force. To see the staff of the school and the children walking down the path, pulling their wagons loaded with food is a great sight" said Clark Hastings, co-chair of the Parker Task Force.
"The caring, kindness and compassion coupled with the enthusiasm and heart of this school is just awesome," added Jim Chincholl co-vice chair.
PTF would like to thank everyone at the school for their hard work and the wonderful help that they provided to PTF.
---
Parker Task Force Receives Post-News 2008 "Season To Share" Grant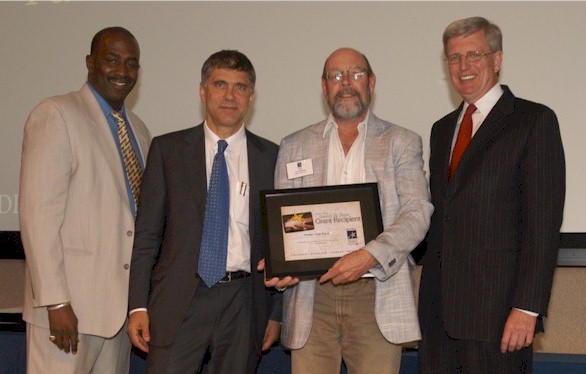 From left: Gregory Moore, editor of The Denver Post; John Temple, editor, president and publisher of the
Rocky Mountain News; Clark Hastings Co-chairman of the Parker Task Force and Harry Whipple,
president and CEO of the Denver Newspaper Agency. Photo by: P. Switzer
Parker Task Force recently received a grant for $13,000 from Post-News "Season To Share" to fund our general program of homeless prevention and the management of a food bank. These services provide for families in the Parker, Elizabeth and Franktown areas (by zip code).
The 2007/2008 Post-News Season To Share campaign raised a record-breaking $2,197,500 that was distributed to 65 Denver area non-profit agencies. For 15 years, Post-News Season To Share has raised charitable donations that are matched and disbursed to local non-profit organizations serving children as well as those who are homeless, hungry or in need of medical care. Funds are raised through reader, community and corporate donations, and each dollar donated is matched with 50 cents by the McCormick Tribune Foundation. The Denver Newspaper Agency and the McCormick Tribune Foundation pay all administrative costs, allowing 100% of donations to go directly to charitable organizations. In total over the past 15 years, the campaign has raised and distributed over $21,000,000.
The 100% volunteer Parker Task Force will use its Post-News Season To Share funding to support the ever growing need for services in our community
---
Harley Riders Rock!
The 504 Poker Run and Party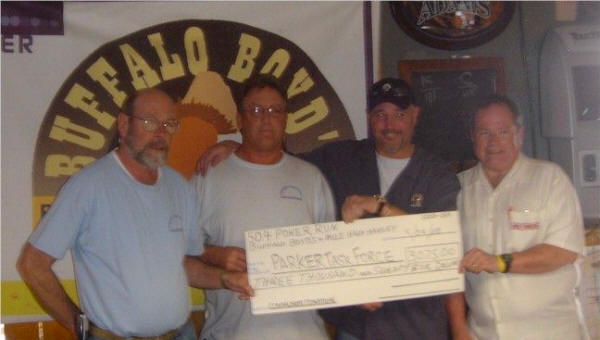 From Left To Right Clark Hastings Co-Chairman Ptf, Jim Chincholl Vice-Co-Chairman PTF,
John Arseneau Owner Buffalo Boyds and John Weber Mile High Harley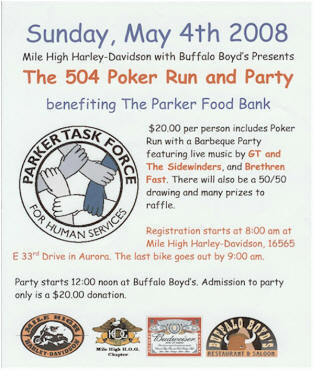 Harley riders, long known for their generosity and kindness, outdid themselves Sunday when they helped raise over $3,000 for the Parker Task Force. Mile-High Harley Davidson and Buffalo Boyd's Restaurant and Saloon teamed up to host the first annual 504 Poker Run.
The day was gorgeous, the food was excellent and the party was lively. Many thanks to GT and the Sidewinders and Brethren Fast for donating their fabulous live music to the festivities. Mile-High Harley volunteers and the staff at Buffalo Boyd's are to be especially commended for donating their time and energy to the effort. Special thanks to John Arseneau and his staff at Buffalo Boyd's, Bill, Mark, Steve, Michelle, Brittany, Jason, Juan, Rachel and Manuel. We're also very grateful to John Weber and Ray Cooper, owner of Rocky Mountain Harley Davidson.
The Parker Task Force (PTF) is a 100% volunteer organization that has been assisting families in crisis in the Parker, Elizabeth and Franktown areas for over twenty years. PTF is currently helping well over 400 families meet the basic needs to feed, house and support their families. No expenses were incurred by the Task Force for this fundraiser, so all of the proceeds will go directly to helping out our neighbors in need. Our profound thanks to everyone who participated in this great event!
---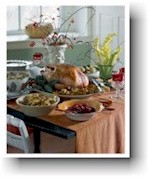 2008 Thanksgiving Dinners for Parker Task Force Clients
We had a goal for 2008 to again provide a Thanksgiving dinner to each client family that wished to receive one.
Thanks to everyone who sponsored a family!
Thank you for bringing comfort and cheer to families last Thanksgiving season. The number of families we assisted in the Parker, Franktown and Elizabeth areas had grown 31% in 2008 over 2007.
---
Thanks To All Those Who Contributed To The Parker Task Force
At The October Parker Electronic Recycle Event
The Electronic Recycle Event, that was held at the Parker Town Bldg, Saturday, October 18th 2008 also helped support the Parker Task Force. We collected approximately 850 pounds of food, $208 in cash donations and $227 for the cell phone recycle fundraiser during the event. Thank you for your support!
---
Town Council Recognizes Parker Task Force Volunteer Vince Lucero
The Parker Town Council recognized Vince Lucero and congratulated him on being named the Denver Foundation's Minoru Yahsui award winner for his history of outstanding volunteer work. Vince has been a volunteer for the Parker Task Force for many years, in addition to volunteering with other community organizations. Vince was awarded $2000 (among other gifts) which he graciously donated to PTF.
Jan Hastings and Nancy Gripman spoke about Vince and about the history and work of the Parker Task Force.
Gripman, who was one of the PTF founders and who remains an active volunteer, related the history of PTF. She concluded her remarks by thanking Mayor Casiano and the Council Members for the continuing support of the work of the PTF.
Hastings described the unprecedented growth of the PTF and the challenges of assisting their current caseload of over 400 families seeking assistance. She said that each week new families are added to the client list and the need for assistance continues to escalate. For example, last week PTF had a record of 56 families coming in for help.
Hastings also congratulated Vince on being recognized by the prestigious Denver Foundation for the Minoru Yahsui outstanding volunteer award, noting that with this award, Vince is in the running for the President's National Volunteer of the year for 2008. She thanked Vince for his outstanding work and generosity through the years. Vince was honored with a standing ovation from the crowd and each Council Member added their personal remarks thanking and recognizing Vince and the PTF for the wonderful service to the Parker community.
Hastings noted how fortunate the Parker community is to have leaders with heart and dedication. She wrapped up her remarks by thanking the Town for their support and provision of rent-free space and paid utilities that allow PTF to provide the much needed services to the residents of Parker.
---
Parker Crop Walk 2008
The 2008 Crop Walk was held on Saturday October 4th. Mayor David Casiano and Clark Hastings, Co-Chair PTF kicked off the event. Sponsored by local churches, this walk also benefits the Parker Task Force.
Many thanks to all of the volunteers and walkers who helped make this event a big success.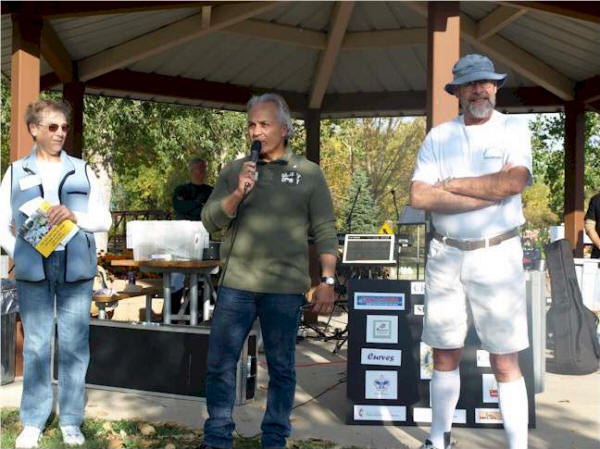 Crop Walk 2008 from left to right: Rev. Sue Gardner, Mayor David Casiano & Clark Hastings, PTF Co-Chairman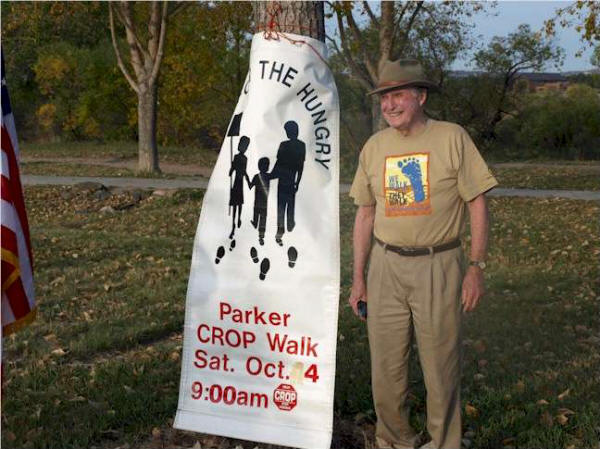 2008 Crop Walk - Jack Rogers, Parker Task Force Volunteer
---
Copyright © 2008 by Parker Task Force For Human Services
all rights reserved.