| Home | About Us | Calendar | Items Needed | Programs | Volunteer | Donations | Scrapbooks | FAQ | Forms |
---
Parker Task Force Scrapbook
2012
---

Christmas Adopt-A-Family Program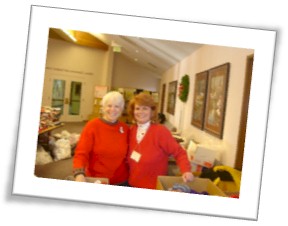 Think snow, sleigh bells, sparkling lights and Christmas music. Think hot chocolate, apple cider, pretty ribbons, toys and lots of goodies. Does this start to feel like the Christmas you and your family are planning? We hope so.
Unfortunately, this is not the image many of the Parker Task Force clients see when they consider the upcoming holiday season. For many of them, this season means the additional stress cold weather puts on already tight budgets. It means that the dreams and expectations that many of us take for granted are still just beyond their reach. Worse, it means that they have to say to their children, "Santa won't be able to visit our house this year."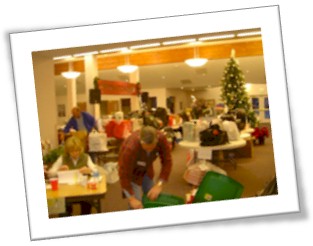 While Douglas County is thought of as affluent, nearly 20% of its residents struggle to meet even the basic needs of food and shelter. Parker Task Force now helps close to 500 families stay in their homes with working utilities and enough food to feed everyone in their household. The volunteers at PTF pour a tremendous amount of time and love into this work. We all know that it is not enough. We rely on the wonderful citizens in this County to help us out with donations of food and money and you do! The incredible generosity and giving spirit is a constant source of joy for all of us.
Won't you please help?
Adopt a family this holiday season.
For more information contact foodbank@parkertaskforce.org or call 303-841-3460

---
The Parker Police Department Teamed Up
With Santa To Feed Those In Need.
Santa will read a story every half hour at the PACE Center from 3 to 6 p.m. on Sunday 12/23. He - as well as the Parker Police Department - will write a letter to our troops overseas and help fill backpacks for the Parker Task Force Backpack program.
The Backpack Program focuses on providing kids in need with food for the weekend.
Each Friday, the qualifying child picks up a backpack with food items to provide them nourishment so that they are able to focus on their studies instead of their hunger.
The Parker Task Force will also be accepting cash and gift card donations.
2012 Thanksgiving
Pictures by:
Steven Martin
plantedseedphoto.com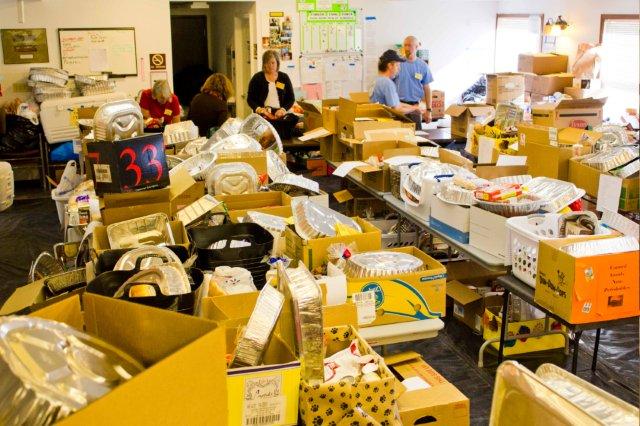 Photography donated by:
Steven Martin
plantedseedphoto.com
---
Thanksgiving Thank You Note
to the Community
November 30, 2012
Thanks to generous donations from the Parker area community, the Parker Task Force Thanksgiving project was very successful. We were able to provide a Thanksgiving turkey and complete meal to every client family that requested one, as well as purchase grocery store deli prepared Thanksgiving meals for some senior and disabled clients. Thanksgiving baskets were also given to the Douglas County Women's Crisis and Family Outreach Center.
We also raised funds to provide limited financial assistance to client families facing eviction or utility shut-off this winter. Donations of gift cards will be used to help a client with a much needed prescription or to buy fresh produce for the food bank shelves. Our clients are appreciative of the assistance we provide and it is made possible by the ongoing support of our community.
Sincerely,
Diane Roth
Diane Roth
Volunteer
---
The Parker Task Force Celebrates 25 Years Of Service
Founders, volunteers and Parker Town Officials gathered on February 7th to celebrate the 25th Anniversary of the Parker Task Force. In his remarks to the crowd, Mayor Casiano stated that the volunteers of the Parker Task Force will be needed in the coming 25 years and beyond.
The Parker Task Force is a 100% volunteer organization whose mission is to prevent homelessness. This is accomplished through its food bank and financial assistance programs. The Task Force assists clients in the Parker, Franktown and Elizabeth areas.
"This could not be possible without the support of the Town of Parker as well as its citizens" said Steve Budnack, current Chairman of the non- profit. "Our volunteers have been holding food drives at the local supermarkets for 10 years now and thanks to the generosity of the people of Parker, our food bank shelves are never empty."
The Parker Task Force was founded in 1987 by four local women, representing four area churches, and the Parker Fire Safety District. " We were founded as an all-volunteer agency and remain so to this day" Budnack said. "Between our volunteers and our building, maintenance and utilities that the Town of Parker provides us, we can make sure that when citizens make financial contributions to us, that money goes to direct services for our clients."
"This organization is a true community effort", Budnack continued. "Last year we received support from many schools in the area. The local churches can always be counted on for support and we consider the local supermarket managers our partners as well."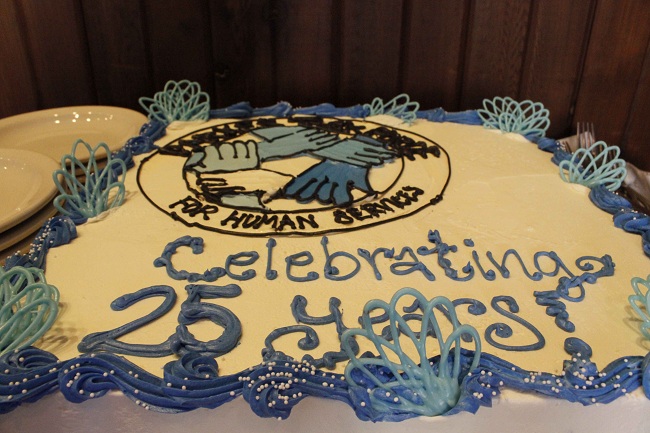 The cake was delicious!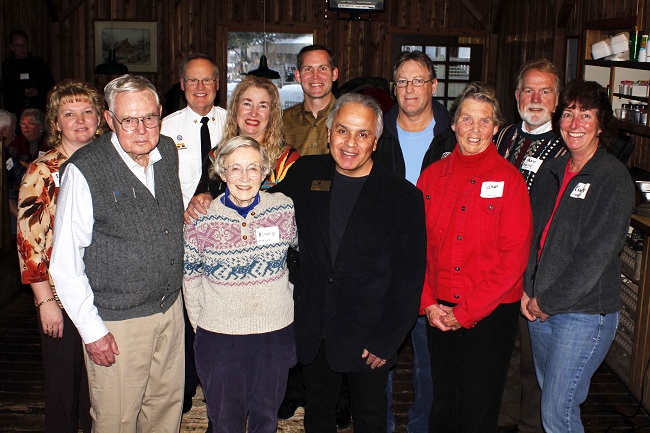 The Mayor, PTF Officers, and founders of the organization gathered
for this photo-op at the 25th anniversary event.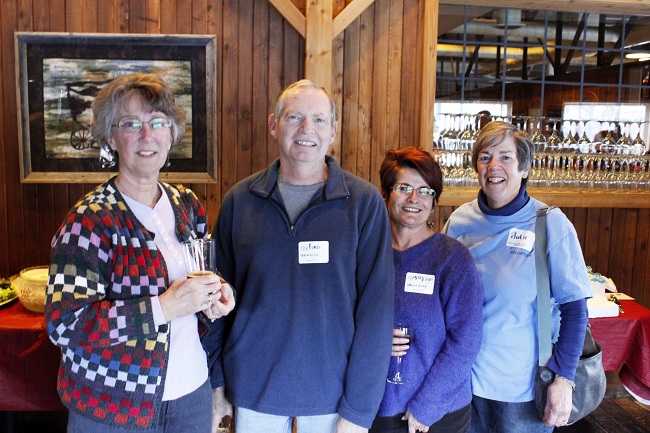 Volunteers enjoying the 25th anniversary event.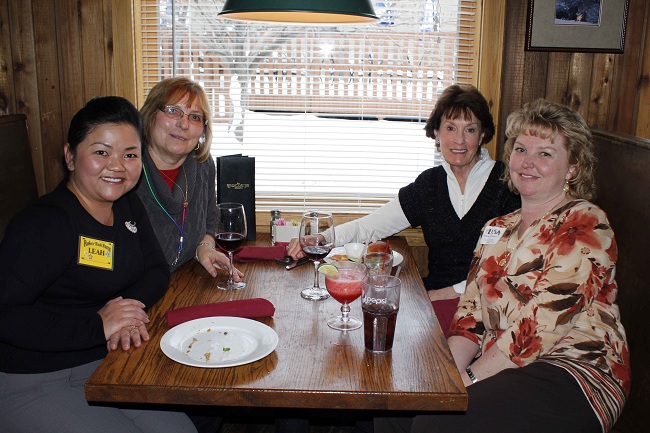 More volunteers enjoying the 25th anniversary event.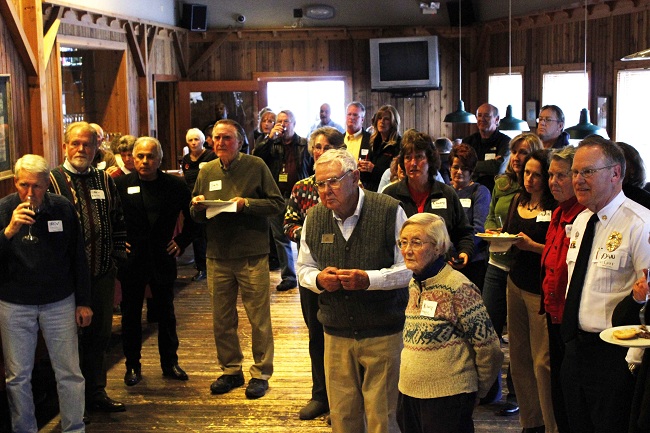 Quite a crowd gathered on February 7 to celebrate the 25th anniversary of the PTF.
---
Douglas County Volunteers Produce More Than A Thousand
Pounds of Produce for the Parker Task Force Food Bank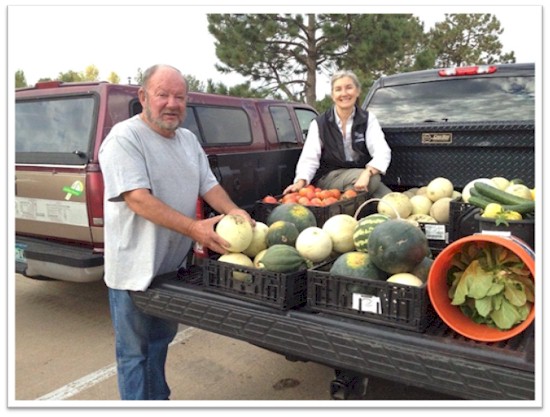 Parker, Colorado (September 25, 2012) Every Tuesday morning Douglas County Master Gardeners pick the fresh produce they grow in the County's Hidden Mesa Open Space near Franktown and by 8:30 a.m., they deliver the fresh vegetables to the Parker Task Force food bank. Beginning in June and to date, over 1500 pounds of produce grown by Douglas County Master Gardener volunteers have been distributed by the volunteers at the Parker Task Force food bank to families seeking food assistance from the Parker, Franktown and Elizabeth areas.
The core group of about half a dozen Master Gardeners work under the guidance of Andy Hough, Environmental Resources Coordinator for Douglas County. These hard working volunteers are happy to spend some time in the dirt to plant, weed, irrigate and harvest the vegetables that will end up on the tables of local families that are clients of the Parker Task Force. According to Hough, "This group of Master Gardeners was already working in the county's experimental fruit orchard at Mesa Open Space when they came up with the idea to add a vegetable garden and donate the produce to the Parker Task Force. This was the first year for this project and we plan to continue our efforts next season."
To date, the produce delivered to the Parker Task Force food bank has included 603 pounds of squash, 119 pounds of lettuce, 211 pounds of cucumbers, 357 pounds of melon and 114 pounds of tomatoes. The garden still has significant quantities of produce to harvest.
Steve Budnack, Chairman of the Parker Task Force had this to say: "We couldn't be more pleased with the bounty of fresh vegetables. Our client families receive the benefit of fresh locally grown produce and enjoy it tremendously. The Parker Task Force normally buys fresh vegetables, but because of these donations this summer, we have saved more than a thousand dollars. Plus, there is something extra special about having Parker Task Force volunteers working with the Douglas County Master Gardener Volunteers."
---

Lowe's - An Outstanding Community Partner
Volunteers no longer have to scurry about between several refrigerators to gather fruits and vegetables for clients because of the donation of the "cool room" from Lowe's.
The Parker Lowe's store donated the materials and labor to build the cool room at the Task Force used to store fruits, vegetables, and other items needing refrigeration.
Please join the Parker Task Force in thanking Lowe's for their generosity and commitment to our community. The photos below show people from Lowe's and some of their work on the new cool room.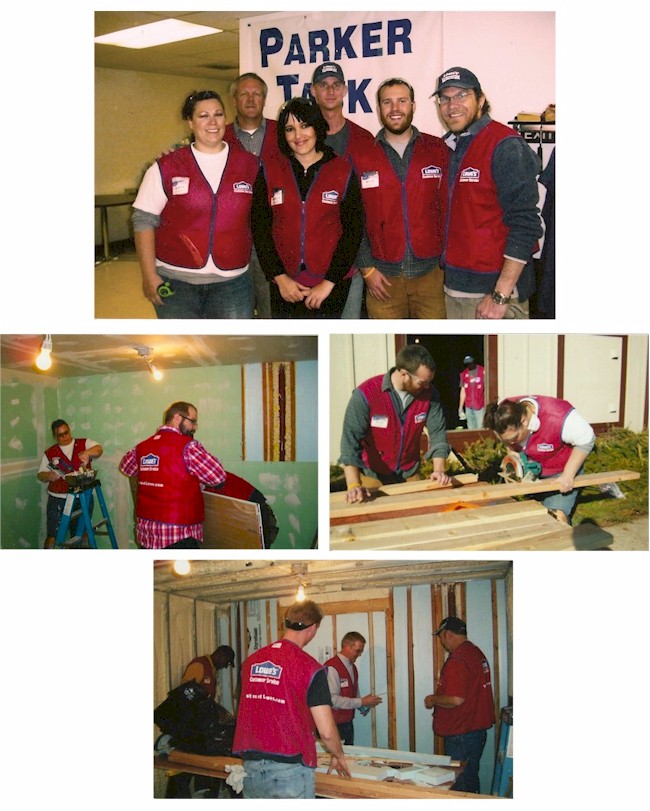 ---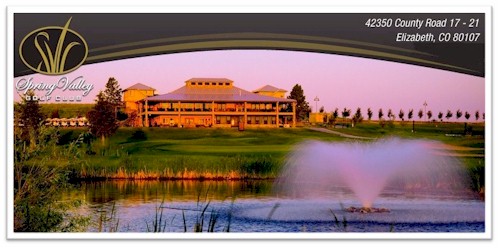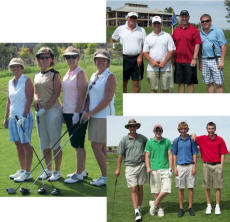 On June 11th sponsors, volunteers and over a hundred golfers gathered at Spring Valley Golf Club to support the Parker Task Force (PTF). It was a beautiful sunny day to enjoy great golf on a terrific course, a delicious lunch and a fabulous silent auction. In addition to raising capital funds for PTF, the event continued the commemoration of the 25th anniversary of the PTF and its mission to prevent homelessness in the communities of Parker, Franktown and Elizabeth.
Steve Budnack, the Chairman of PTF and organizer of this event described the success of this year's golf tournament: " We raised a significant amount of money for the capital campaign and everyone enjoyed themselves at Spring Valley. I continue to be grateful for the support of our community. Without the participation of generous sponsors willing to provide donations, services, and merchandise, we would not be able to put on a tournament of this caliber. I also want to recognize Spring Valley Golf Club and Justin Cirbo for their support and assistance in putting on this event. Last but not least, kudos to our dedicated group of volunteers who put in the work and hours of service to make this 100% volunteer organization so effective. Thank you to everyone who helped make the annual golf tournament a huge success. "
Plan to join us in early June 2013 for the next annual golf tournament. Check the website in the spring for the announcement of the date and location.
Tournament Sponsors
Gold Sponsors

Hampton Inn

Holiday Inn

Trappers
Chop House

Super 8
Silver Sponsors
Bronze Sponsors

IREA

The Mortgage Company

Faestel Properties

Hole Sponsors

Firehouse Subs

Budget Blinds of Southeast Metro, LLC

Bellco Credit Union

Cottonwood Water

State Farm, Joe Bussey

Pfeiffer Family

Mango Mortgage Corporation

Stagecoach Saloon

Parker Hilltop Apartments

Brent & Gina Osland

All About Stucco & Exteriors, Inc.

Hilltop Church of Christ

Intergroup, Inc.

Redstone Bank

Snow Family

Peters & Associates

Brown Law, Stephen Brown

PEPC

Equity CO

Chick-Fil-A

Elev. 5900

Pine Lane Nursery

Goodwill

The Barrington Group
---
The Parker Arts, Culture and Events (PACE) Center in partnership with Parker Theatre Academy and in association with Parker United Methodist Church is proud to present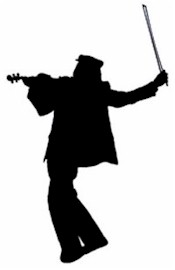 Fiddler on the Roof
Book by Joseph Stein
Music by Jerry Bock
Lyrics by Sheldon Harnick
Based on Sholom Aleichem's stories by special permission of Arnold Perl
Needed! All ages and sizes!
Entire Families encouraged but not required!
Singers, Non-Singers, Dancers, Non-Dancers, Actors, Non-Actors
Parker United Methodist Church has produced shows to benefit the Parker Task Force for the past seven years and this year the show will be on the PACE Center stage. This production will be directed by Kim Moore and will be family friendly, with all ages needed to create this community show.
Fiddler on the Roof is set in the little village of Anatevka, Russia. Tevye tries to instill in his five daughters the traditions of his tight-knit Jewish community. Things are changing fast in Tevye's world and he is placed in the position of changing with it or holding to his traditions.
Auditions are on June 4 and 5 from 6:30 to 9 p.m. at the PACE Center, 20000 Pikes Peak Avenue in downtown Parker. Performers of all ages and talents are needed and families are encouraged to audition. Those 10 and under need to audition with a parent. Go to www.parkeronline.org and click on PACE, and then the left tab Auditions for more information. Call 303.805.3364 to schedule an audition appointment. Callbacks are by invitation only on June 6th from 6:30 to 9:00 p.m. There is a participation fee of $45 if selected for the cast. For each additional family member, $20 will be charged up to a maximum charge of $95 per family. Scholarships are available. Rehearsals start June 18th.
Those auditioning should prepare a thirty-second song from Fiddler on the Roof or a song of your choice. If you just want to be in the show and don't want a solo, you can just show up to auditions to sign up.
Performances July 27th @ 7:30, 28th @ 2:00 & 7:30, 29th 2:00, August 3rd @ 7:30, 4th @ 2:30 & 7:30
---
We Have A New Quarterly Newsletter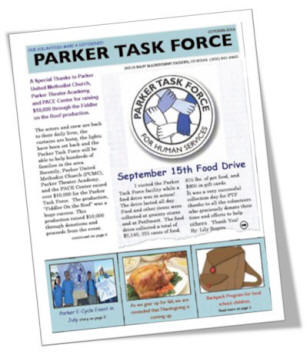 This new PTF quarterly newsletter was created by the National Junior Honor Society Officers at Cimarron Middle school.
If you would like to download a full size printable copy go to the "Forms" page.
---
Parker United Methodist Church's Fine Arts Ministry in partnership with
Parker Theatre Academy is proud to present:
The Little Mermaid
All proceeds from the play will benefit the PUMC's Fine Arts Ministry
and the Parker Task Force.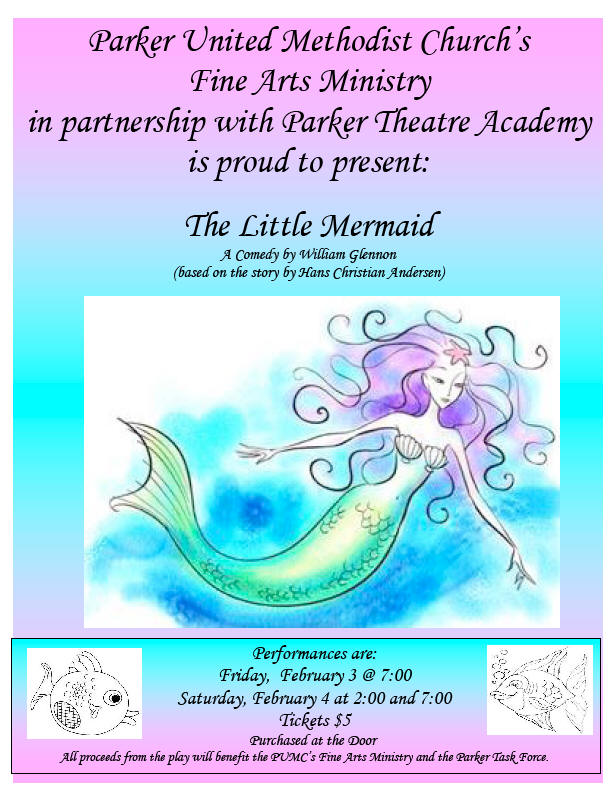 ---
Copyright © 2012 by Parker Task Force For Human Services
all rights reserved.