On June 19th the students at Pioneer Elementary donated wagon loads of food to PTF. PTF looks forward to this event every year! The kids bring their donations down the trail, pulling their wagons, all in an effort of love to help their neighbors in crisis. They know what some of us forget at times. Hunger and need are year 'round issues. This summer drive helps PTF stay stocked during the summer months.
Our heartfelt thanks to the generosity and kindness of these students, their teachers and administrators. Without this kind of support, PTF would not be able to supply the help needed to all of those who come to our doors.
Parker Task Force received $15,000 through Denver Post Season To Share, a McCormick Foundation Fund, to support its mission of homeless prevention during a reception held on April 24, 2009.
A record-breaking $2,341,500 was distributed to 74 Denver-area nonprofit agencies through this year's Season To Share campaign. Since 1992, this program has raised charitable donations that are matched and disbursed to local nonprofit organizations serving low-income children as well as those who are homeless, hungry or in need of medical care. Funds are raised through reader, community and corporate donations, and each dollar donated is matched at 50 cents by the McCormick Foundation. The Denver Newspaper Agency and the McCormick Foundation pay all administrative costs, allowing 100 percent of donations, plus the match, to go directly to charitable organizations. In total over the past 17 years, more than $24 million has been distributed through Season To Share.
Parker Task Force will use its Denver Post Season To Share funding to support our on-going programs and food bank.
---
LDS BESTOWS BLESSINGS ON PTF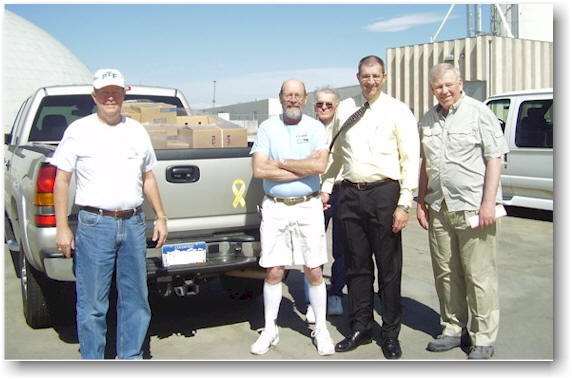 The Church of Jesus Christ of Latter-day Saints (LDS) generously donated several thousand pounds of food to PTF from the Bishop's Storehouse on Thursday, May 8th. PTF is very grateful to the LDS for their continued generosity and support of our mission.
The picture above shows LDS members and PTF volunteers working together to load up the vehicles for the trip back to PTF. This kind donation will go a long way to help PTF provide food for families in crisis. From all of the volunteers at PTF – many thanks to the Church of Jesus Christ of Latter-day Saints!!
---
Golfers Brave Perfect Weather To Make
PTF's Golf Tournament A Rousing Success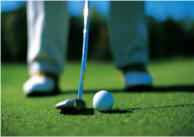 OK, it was little warm there at the end. Despite that, through the laughter, teasing, moaning, groaning, cheers and shouts of "where is that string?", close to 100 golfers valiantly took on the Spring Valley Golf Club's course armed with clubs, water bottles and sunscreen to help those in need in their community. With a host of dedicated back-up forces (aka known as sponsors) PTF was able to raise several thousand dollars in the inaugural golf tournament for our first ever capital campaign.
PTF would like to thank Spring Valley Golf Club for its support of our effort. In addition, our Hole Sponsors receive our medal of honor: Matheu's Fine Watches, Tecra Tools, Chick-fil-A, Sign-a-Rama, and The Mortgage Company.
We would like to award a gold star to the following businesses and individuals for their generosity and kindness in helping PTF make this event a success: Don Prosser, Trappers, Del Friscos, Town of Parker Recreation Center, Spring Valley Golf Club and Libations.
PTF also awards special commendation to the following businesses who contributed gift certificates and "goodies" for the golfers participating in the event: OraLabs, Real de Ninas, Old Chicago, Rustles, Heidi's Deli, Brakes Plus, Christmas Shoppe, Grease Monkey Joe's Crab Shack, Carinos Italian Grill, 24 Hour Fitness, Honey Baked Ham, Tontis Pizza, Planet Beach, Texas Roadhouse, Pappadeaux, Lenny's Golf, Dick's Sporting Goods, Noodles and Company, Panera Bread, Dusty Boot and Parker Day Spa.
As always, thanks to the force of dedicated volunteers who helped in so many ways. It is such an amazing feeling to be a part of such a wonderful and caring team that embraces and includes entire communities. Thank you and don't forget to mark your calendars for next year. To paraphrase a proud American, we will be back!
Jan Hastings - Publicity Coordinator
More PTF Golf Tournament Pictures
---
503 Poker Run & Benefit
Held Sunday May 3rd, 2009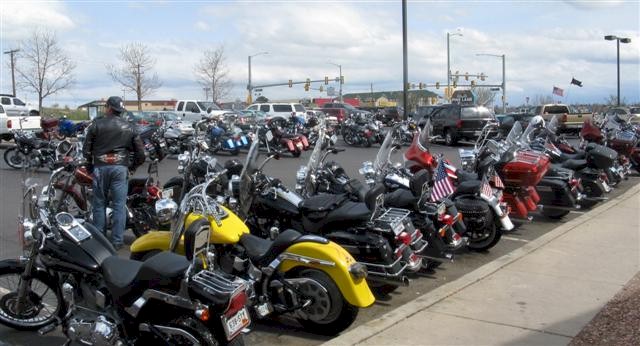 Singing In the Rain
Whoever said you can't have a good time in the rain has never attended the Parker Task Force Poker Run. Granted the rain was cold, very cold, but for those who were able to bear the weather, it was nothing short of a goodtime. More importantly, it has provided many with nothing short of a good fortune.
This May 3rd, PTF hosted the 2nd Annual Poker Run. The event proved to be a success, raising more than $3,700 for the individuals struggling to purchase food and household necessities. Everything raised in the event was donated. On behalf of PTF, we would like to thank our sponsors – Mile High Harley Davidson and Buffalo Boyd's – for assisting in the creation of the Poker Run. We would also like to thank the local businesses of Parker and surrounding areas who generously donated certificates and merchandise to the Run, the band Steele who kindly provided the music for the event, and those who were able to attend and tolerate the unpleasant weather. We owe the success of this event to all of you.
Turning our sights to the future, PTF is already beginning to plan for the 3rd Run which will be held in 2010. Keep us in mind. We'd love to see you all there!
PTF continues to stay dedicated to the Parker, Franktown and Elizabeth communities by helping to assist those who are struggling financially. PTF hosts events throughout the year, including an upcoming golf tournament which is scheduled for May 18th.
A Roar Of Thanks To Our Sponsors
Parker Task Force would like to extend another heart felt thanks to our sponsors for the recent successful 503 Poker Run Mile High Harley Davidson! We would also like to give special recognition to Buffalo Boyd's and Panera's Breads for the their outstanding support and donations to the event! In addition, we would be remiss if we didn't thank ALL of the wonderful donors to this awesome event.
Matheu's Fine Watches
Keller's Professional Auto Service
24 Hour Fitness
All About You
American Steel
Ancient Arts Tattoo
Aspen Grove Salon and Spa
Chick-fil-A
Colorado Rockies
Creative Carpentry and Design
Domino's
Dusty Boot Steakhouse and Saloon
Elizabeth Barber Shop
Bender Mendes
Grease Monkey
Hickory Hut Ribs
Isba Spa
Honey Baked Hams
Joe's Crab Shack
Kat Eyes Optical
LaMars Donuts
Libations Wine and Spirits
Magic Scissors Hair Salon
Old Chicago Pizza
Once Upon A Tan
OraLabs
Outlaw Leathers
Parker Day Spa
Parker Payless Liquor
Parker Recreation
Department
Planet Beach Spa
Real De Minas
Richie's Car Wash
Saltgrass Steakhouse
Stagecoach Saloon
Tagawa Gardens
Tailgate Tavern & Grill
Texas Roadhouse
The Egg & I
Tonti's Pizza
Trapper's Chop House
Twenty Mile Theatre
Again, thank you for your support. We could not do it without you.
From all of the Volunteers at Parker Task Force
---
| | | |
| --- | --- | --- |
| | | |
The Parker Task Force recently teamed up with Channel 9 for the summer version of 9Cares Colorado Shares state wide food drive. Parker is one of the satellite sites that participate in the drive and by far the most successful. While some found it difficult to participate due to the sour economy, the Parker community once again demonstrated just how caring and generous they are.
Sometimes it seems easy to forget in the summer months when the weather is warm and life seems a bit easier than in those long, cold, dreary winter months, that many in our community are not enjoying the same level of ease. Being hungry and without the means to keep your utilities on, pay your rent or get needed medical care is a crisis regardless of what the calendar says. And once again, Parker residents showed everyone that they understand.
Over 175 volunteers donated more than 500 hours in Parker on June 20th to collect over 20,000 pounds of food and over $4,000 in donations! That is worth celebrating. And once again, PTF was the leader in collections overall for the satellite sites and gave the 9 News main site a run for it's money as well! Go PTF and Parker residents! You rock.
This awesome drive, supplementing our regular monthly collections, will insure that we can make it through the summer months despite the record numbers of families coming to our doors for assistance.
Words cannot adequately express the pride and appreciation PTF has for the 100% volunteer team and for the community that supports and nurtures us and those we serve.
All we can say is - "Thank You"
---
COMING ATTRACTION!!! FOR THE 8TH YEAR RUNNING.........
Parker United Methodist raises the curtain to help Parker Task Force.
Performances are Friday night, 8/21 at 7pm, Saturday 8/22 at 1pm and again at 7pm.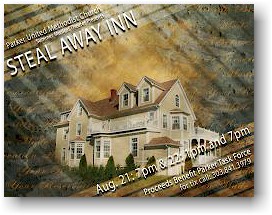 Written and directed by Reverend Teri Todd, this newest production, Steal Away Inn, promises all the intrigue, suspense, excitement and great music we've come to expect - and experience! The cast and crew are lively, dedicated and determined that you will have a good time. And while you're having all that fun - and some goodies for intermission - you will be helping your neighbors in need. PTF is helping record numbers of families struggling with providing their families with the basic necessities.
It is hard to imagine for many of us, surrounded with the apparent affluence in Douglas County, that so many people need our assistance. Indeed they do. Douglas County officials tell us that this year alone the numbers of families asking for assistance with free or reduced cost lunch programs has risen from 4% to 7.52% in just over a year. They expect that number to continue to grow. In addition, they go on to report that 18% of Douglas County residents are now below the minimum financial level needed to maintain their families.
PTF helps! This 100% volunteer agency works hard to help people return to self sufficiency by providing food and financial assistance to families in Parker, Elizabeth and Franktown (by zip code). We also present several resources and services that further help the families to cope with their new found situation until they can take those critical steps back up to self reliance.
So buy those tickets! Give them to families and friends for gifts and treats! Whatever you do, come and join with others to spend a few hours enjoying great, unique, original entertainment knowing all the while that you are providing much needed assistance to those neighbors of yours out there who aren't quite so lucky right now. Thank you from all of us at PTF. We can't do this without your love and support.
And, as always, God Bless all of those at Parker United Methodist who give their all for others.
---
CROP Walk in Parker
Saturday Oct 3, 2009
Provided by: Jack Rogers
The Parker CROP (Communities Responding to Overcome Poverty) Hunger Walk will be held on Saturday Oct 3. The Walk will start at 8:30 a.m. from McCabe Meadows Park (formerly East Bank Trailhead) and proceed north along the lovely Cheery Creek Trail.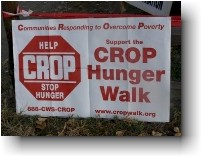 Organized locally, the Parker CROP Hunger Walk hopes to raise $ 8,000 to help stop hunger and poverty here in our community and around the world, through self-help initiatives. 25% of the funds raised here in Parker will go to the Parker Task Force to help alleviate hunger locally.
Last year, over 60 Walkers raised more than $ 6,000 in the Parker CROP Hunger Walk.
This year Parker and some 2,000 cities and towns nationwide are joining together in interfaith community CROP Hunger Walks around the theme "We walk because they walk." Many of the CROP Walkers will be wearing "We walk because they walk" T-shirts, proclaiming their solidarity with the millions of neighbors around the world who have to walk to live -- as well as with the millions served by local food pantries, food banks, and meal sites here in the U.S. These local ministries share in the funds raised by CROP Hunger Walks.
Central America is one part of the world where CROP Hunger Walks are making a big difference. In Guatemala, for example, indigenous families -- especially the women -- are learning how to grow more and better foods for their families, using appropriate technology such as greenhouses and catchment irrigation, alongside creative solutions of their own design -- used tires as mini-garden planters. They are also learning how to organize themselves, how to gain social and economic empowerment, and how to market their extra harvest.
CROP Hunger Walks continue to play a big role in the continuing saga of U.S. Gulf Coast rebuilding. More than two years after Hurricane Katrina, Church World Service is working to get hundreds of families out of FEMA trailers and into new or repaired homes.
For more information about the Parker CROP Hunger Walk, contact the Rev. Sue Gardner at (720) 851-1976 or check out our website at www.cropwalkinparker.org.
---
Please join us for Supper!
"A Taste of Mexico"
Sunday Sept 27th
4:00 p.m. – 5:30 p.m.
Please join us for Supper!
LASAGNA
Sunday Oct 25th
4:00 p.m. – 5:30 p.m.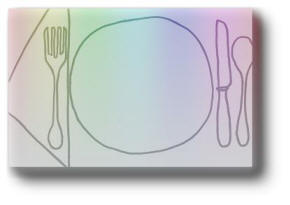 St. Matthew's Episcopal Church
19580 E. Pilgrims Place, Parker

Families, Children & Seniors All Welcome! – No Charge
Note: This is a meal only, no worship service or other program associated with this event.
---
What A "Peachy" Way To Help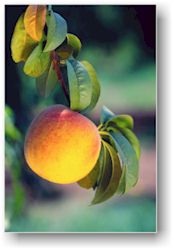 We now have a juicy, delicious and "peachy" way for you to help out the Parker Task Force and the Rotary. This is a two for one deal and you get a little sticky in this sweet process - what could be more fun? These Colorado grown peaches are wonderful, good for you and versatile to use in so many recipes and yummy summer dishes. In addition, with every savory bite, you'll know that you are helping your neighbors in need and a most worthwhile service organization.
Just link up right here to order: www.parkerrotary.org. You may use your credit card there. Or, you may contact: Larry Brutlag at 303-840-1771. If you write a check, please make it payable to Rotary Club of Parker Foundation. Be sure to specify that the donation is for the Parker Task Force on the website or write it on the memo portion of the check.
Details on pick up times, places and dates will be provided on the web site or when you contact the Rotary member.
May you have happy and "peachy" fun while helping out two good causes. Thank you.
---


The Parker Task Force Receives Donation From The Aurora
Old Navy Stores
Chris and Amy from Old Navy and Jim and Clark from PTF accepting the 1,000 dollars
worth of King Soopers gift cards and 50 cases of complete meals purchased by
the Old Navy Arapahoe Crossings and Southlands stores in Aurora.
---
Thanksgiving Dinners for Parker Task Force Clients
To the Community,
I want to thank the citizens of the greater Parker area who demonstrated generosity and kindness through their support of the Parker Task Force for Human Services (Food Bank). On Sunday November 22, an abundance of Thanksgiving Food Baskets were donated and delivered to the Food Bank by caring sponsor families. In addition, many sponsor families mailed generous checks or delivered cash donations to the Parker Task Force. Many of the area churches organized their members and donated baskets or money, as did youth organizations, clubs, and associations.
The Parker Task Force provided Thanksgiving meals to over 500 families. We distributed food baskets first to the client families of the Parker Task Force. But due to the tremendous number of donated food baskets, we assisted several other programs with Thanksgiving food donations, including the Douglas County Women's Crisis Center, the Elizabeth Food Bank, the Elbert Food Bank, Denver Inner City Parish, Samaritan House and Warriors in Transition (Ft. Carson).
On behalf of all of the volunteers at the Parker Food Bank, we are grateful for the support from our neighbors and friends. Thanks to this community's compassion, we are able to provide the helping hand to client families in need. More importantly, the client families tell us they appreciate the support.
Sincerely,
Diane F. Roth
Volunteer – Parker Task Force for Human Services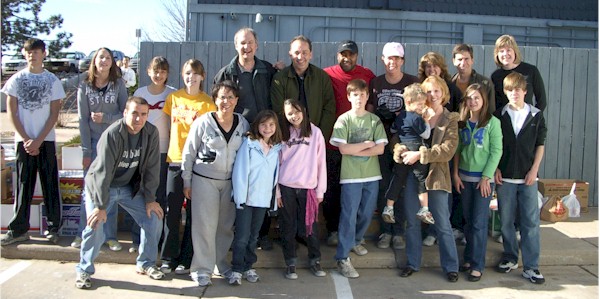 NewDay Seventh Day Adventist Church (above) was the largest donor to the Thanksgiving Basket project. They contributed 137 food baskets.
Many area churches and organizations contributed food baskets and money to this very successful program. On Sunday November 22, volunteers from Discovery Church helped PTF volunteers organize the donated food baskets. Also that day, the Youth Group and Leaders from Providence Presbyterian Church greeted PTF clients picking up food baskets and delivered the baskets to the clients' cars.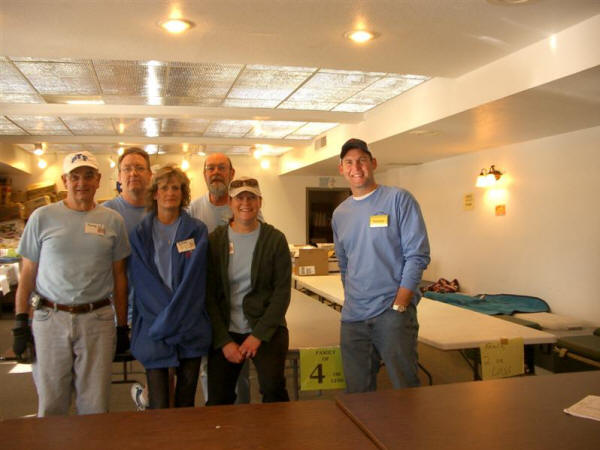 Just Getting Started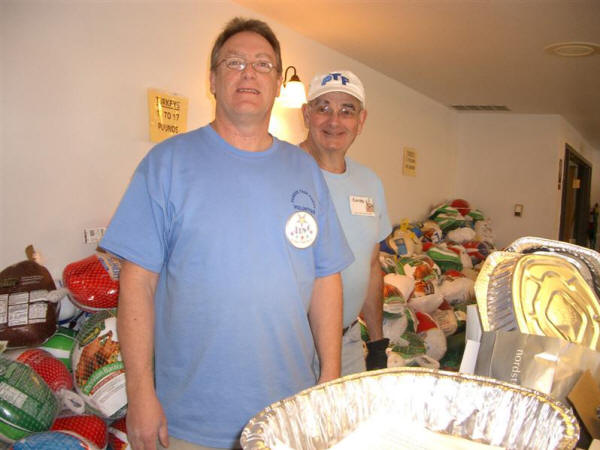 The Turkey Stack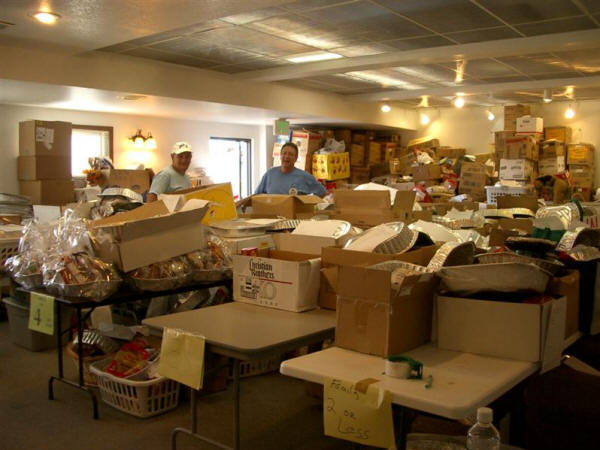 Abundance - PTF 2009 Thanksgiving
Parker Task Force wishes to extend our tremendous appreciation to everyone who made the 2009 Thanksgiving program possible! We say it again and again, but that's only because it's true. We could not do this without you!
---

Stage Stop Cuisine Cookbook
All Sold Out - Thanks to All Who Participated
A Community Cookbook Project to benefit The Parker Task Force and The Parker Historical Society
In addition to tasty recipes, the Stage Stop Cuisine cookbook features drawings and articles about Parker, Colorado area history. Local artists and writers graciously volunteered their time and talents for the historic renderings and articles. The recipes, from the community and beyond, were tested and nutritional values provided by local volunteer 'chefs' and dieticians.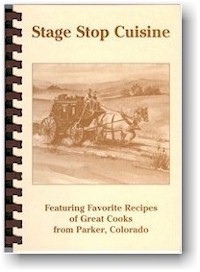 Volunteers donated hundreds of hours to put together the cookbook. They gathered recipes from area residents, tested those recipes and then provided nutritional information about each dish. Local artists, writers and historians also donated their time to provide the historical paintings and articles featured in the book.
Eighty-five percent of the proceeds from the cookbook are earmarked for the Parker Task Force Food Bank, a non-profit organization operated by dedicated volunteers to provide short-term assistance to those in need throughout the Parker, Elizabeth and Franktown communities. The remainder of the proceeds are designated for the Parker Area Historical Society, which was established in 1986 to preserve historic events and sites in the Parker area and to publicly display its findings, historic artifacts and literature. The Society will use the money to fund its new museum/classroom in the Mainstreet Center.
A total of 1,700 cookbooks were printed. Through the end of February 2009 some 1,510 copies had sold, while another 190 were consigned out for sales at local businesses or by individuals.
Stage Stop Cuisine Cookbook Signing
by Genese Sweeney for the Stage Stop Cuisine Steering Committee
The Stage Stop Cuisine signings at the 20 Mile Coffee House were a success! Thank you to all the "Main Ingredients" who attended.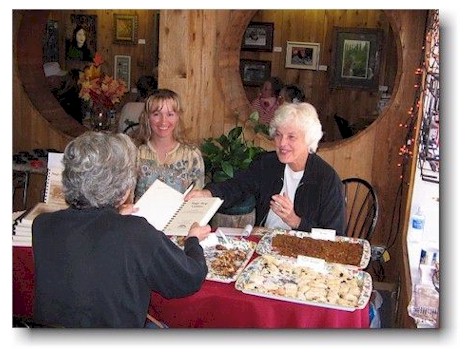 Local artists Bev Goebel and Barb Wilson at the 20 Mile Coffee House signing.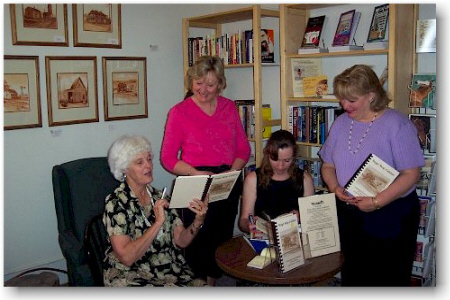 Above is a photo of Jane Klein (left) and Nadia Ker, both of Parker
with artists Barb Wilson and Bev Goebel.
Note that on the wall are five of their original paintings.
11 total were reproduced in the cookbook.
---
Copyright © 2009 by Parker Task Force For Human Services
all rights reserved.